Our Team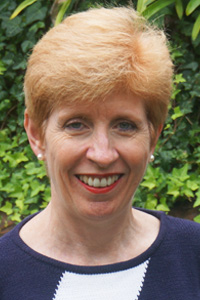 Rosemary Manusu
B. App. Sc. (Speech Pathology);  MSPA, CPSP
Rosemary has worked as a speech pathologist for over 30 years and has extensive experience working with adults with swallowing and communication difficulties. She is a member of Speech Pathology Australia and a certified practising speech pathologist.
Her experience has been gained working at Royal Newcastle Hospital, Royal Prince Alfred Hospital and Royal North Shore Hospital in acute, rehabilitation and community settings.
Rosemary possesses specialist skills in adult dysphagia and has worked extensively with clients with a range of neurological conditions such as Motor Neurone Disease, Parkinsons Disease and stroke. Rosemary has completed LSVT training and is a certified LSVT LOUD practitioner. (LSVT LOUD® is an effective speech treatment for individuals with Parkinson disease (PD) which improves vocal loudness by stimulating the muscles of the voice box (larynx) and speech mechanism through a systematic hierarchy of exercises). Rosemary is focused on providing a holistic approach to managing her clients' communication or swallowing difficulties. These services can be provided in the clients' home, private hospital or aged care facility as required.
---
Pauline Dooley
B.Sp.Thy (UQ), MSPA, CPSP
Pauline graduated from University of Queensland in 1976 and is a member of Speech Pathology Australia and a certified practising speech pathologist.
Pauline has specialised in assessment and treatment of patients with speech and swallowing difficulties resulting from head and neck cancer, neurological disorders and chronic medical conditions. In addition to consulting for WSPS, Pauline consults at St Vincent's Private Hospital and the Mater North Sydney and co-conducts the Voice Assessment Centre at St Vincent's Clinic.
She lectures in Laryngectomy and Head and Neck Cancer Surgery in the speech pathology graduate program at Macquarie University. Her special interests are in dysphagia and in trans-oral robotic surgery.
---
Elizabeth Singhi
B. App. Sc. (Speech Pathology);  MSPA, CPSP
Elizabeth trained as a speech pathologist at Sydney University and graduated in 1991. She has worked with a wide range of adult and paediatric clients in the areas of communication and swallowing both here and in the UK.
Areas of specialty include:- swallowing assessment and management including working with complex medical cases eg tracheostomy and head and neck cancer patients, voice disorders, accent reduction, assessment and therapy for communication difficulties following stroke or other brain injuries, and stuttering treatment using proven methods to assist adults with fluency problems. Elizabeth also has a Voicecraft® certificate.
Elizabeth is experienced working with clients in a range of settings including at their homes, aged care facilities, work places and hospitals. She is passionate about empowering her clients to enable recovery and development of functional abilities to improve their daily quality of life.
---